Bringing Wisconson to Wall Street
Posted on May 12, 2011 10:13am
Tomorrow, thousands of New Yorkers will be hitting the streets of lower Manhattan for a historic day of teach-ins and marches. Their message: No more cuts to jobs, education, housing and safety net programs. Make Wall Street banks and millionaires pay their fair share.
Organized by a broad-based coalition of labor and progressive groups, the May 12 actions are a radical response to Mayor Bloomberg's proposed budget cuts, which take aim at teachers, libraries, summer jobs for youth, homeless shelters, adult literacy programs, and other services relied upon by struggling New Yorkers.
The actions begin at 4:00 pm at public assembly sites throughout Lower Manhattan. Click here to find out where to go.
Speaking to a deep sense of injustice felt by citizens across the city and country, the May 12 organizers explain:
The Big Banks crashed our economy, destroying jobs, foreclosing on millions of homes and wrecking city and state budgets across the country. After trillions in taxpayer funded bailouts, Wall Street is making billions in profits and giving away record bonuses to CEOs.

But our communities are still hurting. Here in New York City, tens of thousands have lost their homes and their jobs. Now, Billionaire Mayor Mike Bloomberg is proposing devastating budget cuts as the only solution to the economic crisis that Wall Street caused. Enough is enough.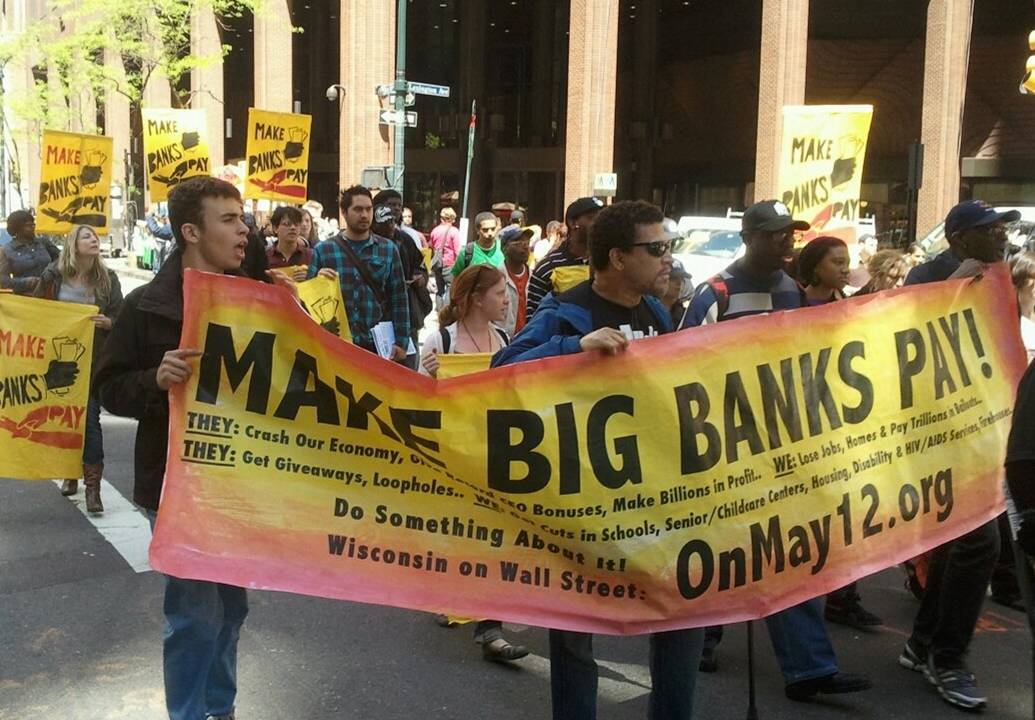 The May 12 Coalition has issued a report describing how the city can equitably close the budget shortfall, including by ending tax breaks and subsidies to Wall Street that have cost New York City $1.5 billion.
As the report points out, the nation's six largest banks -- JPMorgan Chase, Bank of America, Citibank, Wells Fargo, Goldman Sachs, and Morgan Stanley -- are now raking in $199 million per day in profits, and hardly need help from the city.
Nor have the banks fulfilled their promises to create jobs in exchange for subsidies. JPMorgan Chase alone owes New York City 4,857 jobs, or $211.8 million in subsidies, according to the report.
The May 12 campaign has already caused a stir in New York City through a week of actions leading up to Thursday's mobilization.
On Monday, protesters converged on the midtown hotel where House Speaker John Boehner was speaking to business and finance execs about his plan to cut trillions in federal spending. Demonstrators also interrupted the Real Estate Board of NY's meeting, blasting the trade association for opposing renter protections and the NYS millionaire's tax.
Today, organizers rallied in front of Bank of America's Bryant Park office tower, in solidarity with activists who were speaking at the bank's shareholder meeting in North Carolina about "Bad for America's" destructive lending and foreclosure practices.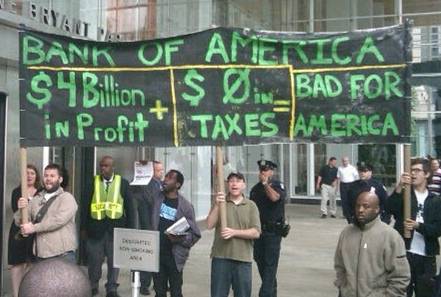 May 12'ers have brought new energy and momentum to the fight for economic justice. Let's hope the Mayor and our elected officials get the message.
I'll be reporting back about the teach-ins and marches, and what lies beyond May 12th. In the meantime, learn more about the campaign at www.onmay12.org.